After the succes of the wall lamps and the stickers it is time to take the Hartendief room decorations to a new level...
It is with great pride that we present you the new 2017 collection including our new cirkle shaped wallpaper!
By combining a cirkle wallpaper with a wall lamp and some enchanting stars you can create a wonderful atmosphere in your childs room in an instant. We have three themes available for you: Forest Dreams, White Forest and Mighty Jungle wallpaper. All watercolor and pencil illustrated wallpapers are designed by Hartendief and produced in the Netherlands.
Forest Dreams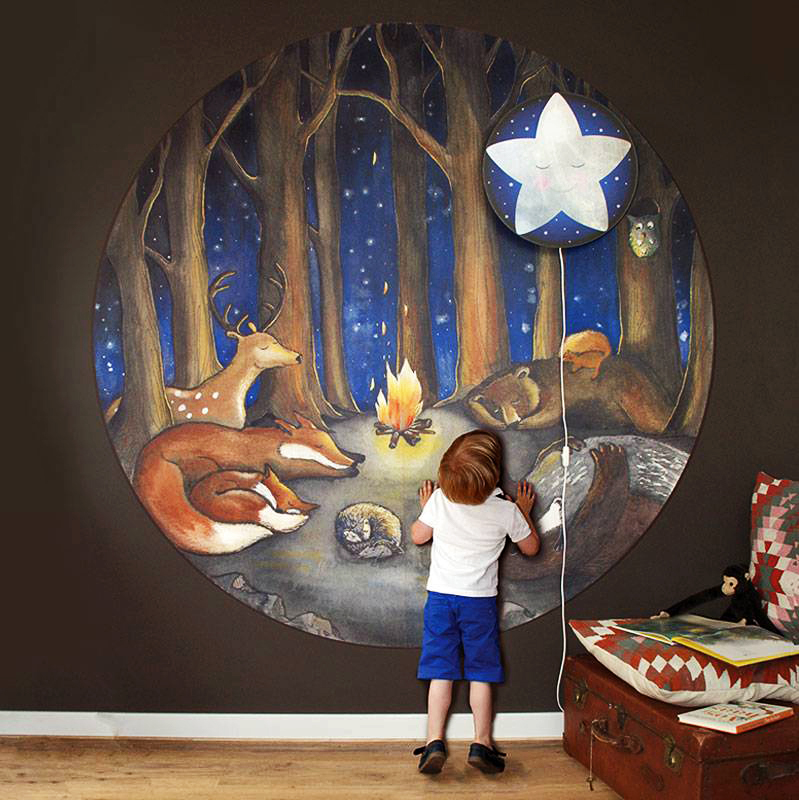 The forest animals we know so well from our wall stickers and wall lights have come together in the forest for a bit of a snooze. A little campfire is crackling away keeping them warm and snug. The night sky is decorated with a thousand twinkling stars. Come a bit closer and you can almost hear them snore while they are dreaming their Forest Dreams.
White Forest
It's silent in the White Forest. This circular wallpaper is created as a beautiful background for you to decorate. We combine this circular wallpaper of trees with one of our Moon lamps (Sleepy Moon or the new Sweet Dreams lamp) or what about Little Star? To add a finishing touch and bring the wallpaper towards a boy or girl styling you can get one of the animal wallstickers hold the cord of the lamp and your room transformation is complete. There are many beautiful animal friends to choose from.
TIP: looking for the little extra touch? Add some silver stars in between the trees as they will reflect the light and twinkle away.
Mighty Jungle
What a buzz in the Mighty Jungle. Can you spot the wild animals peaking through the leaves of the jungle forest? The tiger is having a bit of a snooze as he has been up all night. There is a little humming bird drinking from one of the flowers and the sloth has been in his favourite spot all day. If you look closely you can even find a cameleon. This wallpaper will invite your child to dream about fun adventures and explore the jungle like a little ranger.